Free Survey Maker
Yes, we know our name says 123 Form Builder, but our amazing form building software also makes for a superb survey questionnaire creator with custom reports & data integration options.
A form building tool that handles surveys and workflows in one place?
Yes. All with 123 Form Builder, the tool that goes bananas over helping companies, charities, and NGOs collect invaluable data.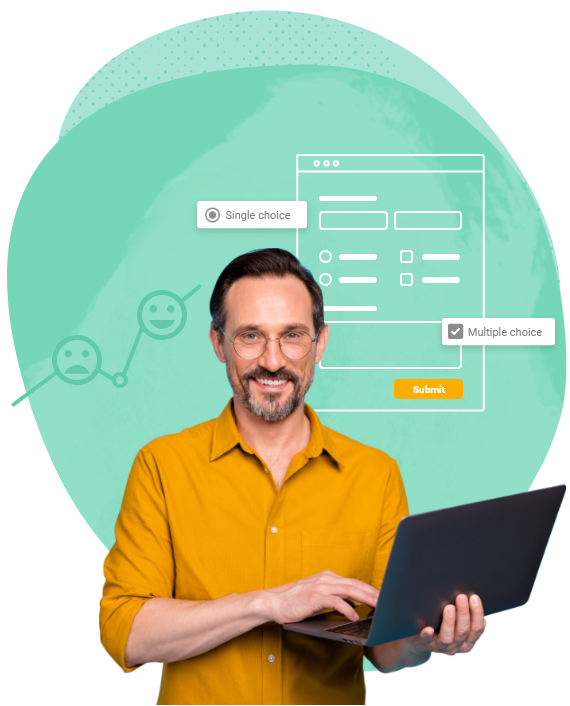 Great tool for surveys and application forms

I liked the variety of templates, starting from your own that can be scanned, to quizzes and customer surveys. You can add the choices and questions on your own, setting default answers, populating multiple-choice and single-choice questions that you can publish in the salesforce community or use in the marketing cloud.I also noticed the variety of fields that can be added to the forms and applications.

Overall, the app is easy to use and install, I like the interface and design. Was searching for such a package for a long time. Thanks

Very well designed form builder

The form builder is filled with great features that allow you to create rich form, especially to gather feedback from users in forms such as surveys. It also provides many integration with different systems which makes it helpfull to get the data gathered from the forms and it into information

Highly Efficient and User Friendly!

There are a lot of features that keep 123Form Builder to stay at one of the top Form Builders however, the following are some salient features that I like the most:-

1. It takes care to create forms automatically according to general survey needs which makes it quite interesting.

2. User-friendly and easy to fill out. Customer finds it easy and reliable to just fill and submit their response.

3. Integrated with Salesforce makes it very efficient. Valuable reports generated in the system make it a lot helpful for decision making.

Although 123Form Builder contains numerous functions yet only above mentioned make it a complete package for a healthy customer care solution.

Highly Recommended!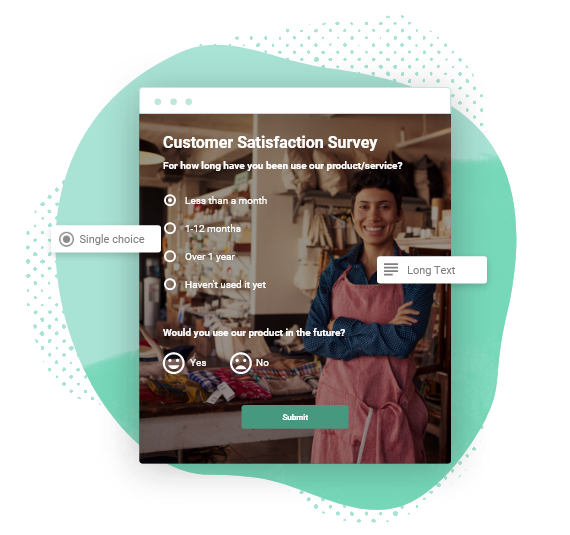 Build Online Surveys as Easy as 1, 2, 3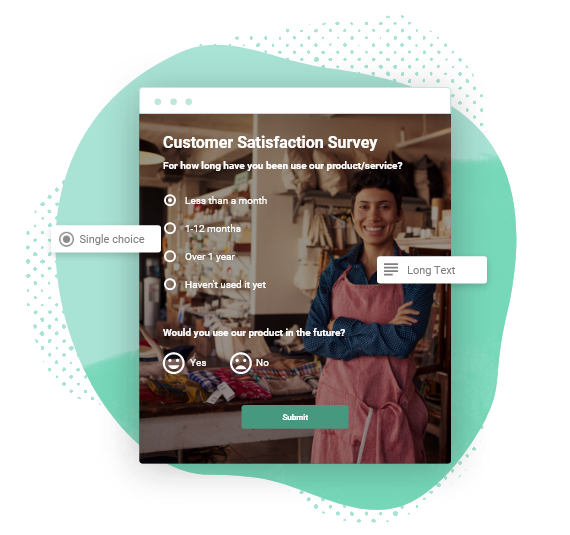 When we created our free survey maker, we made sure to add all the sugar, spice, and everything nice our customers would need. Most importantly, we added the secret ingredient: simplicity.
Our free questionnaire maker helps people around the world build any type of form (including surveys) in minutes. Literally.
Create appealing survey questionnaires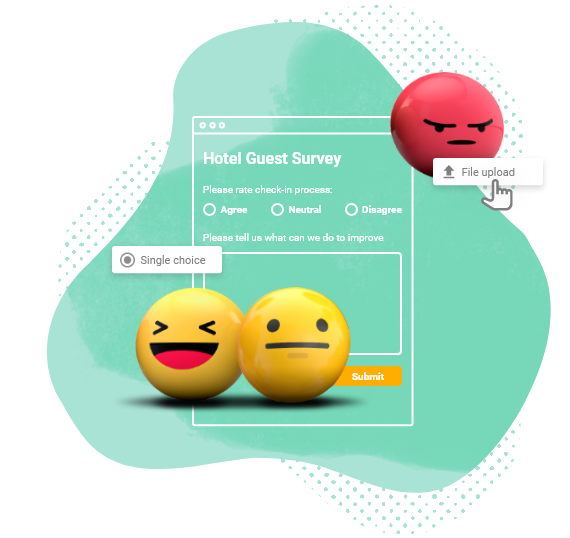 Just being a simple tool isn't enough? How about one of the thousands of FREE form and survey templates you can find in our collection? Or the fact that you can just DRAG AND DROP fields into your questionnaire? Oh and did we mention that perfectionists (and normal people) can customize surveys down to the smallest detail?
Pfft. Words are all well and good, but how about we show you how to create a free online survey with 123 Form Builder?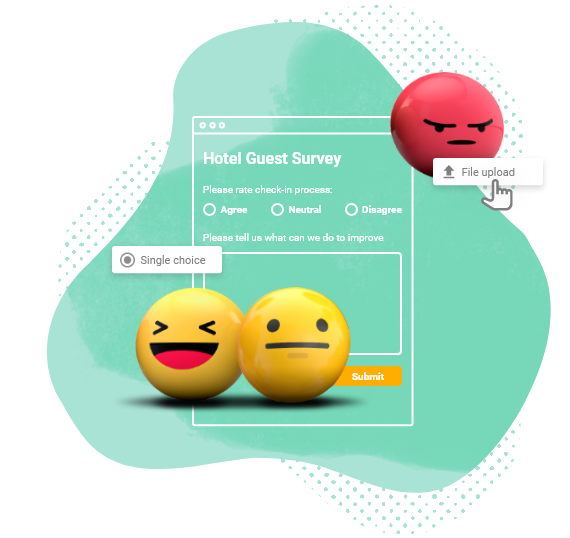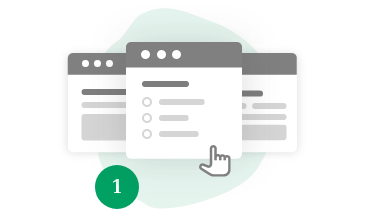 Pick one of the free survey templates or create a form from scratch. Both options are super-easy.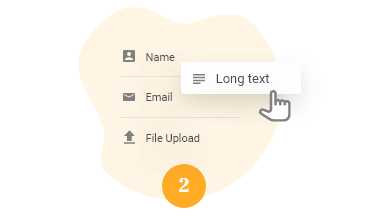 Customize your form by adding/ removing fields, open-ended questions, close-ended questions, translations, notifications, and * drum roll * conditional logic.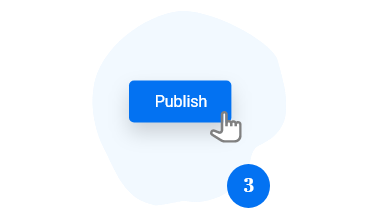 Publish it anywhere: on your website, on Facebook, or by simply sharing your link with respondents.
See? Three steps. One, two, three. Even a monkey could use our free online survey maker.
Brand your surveys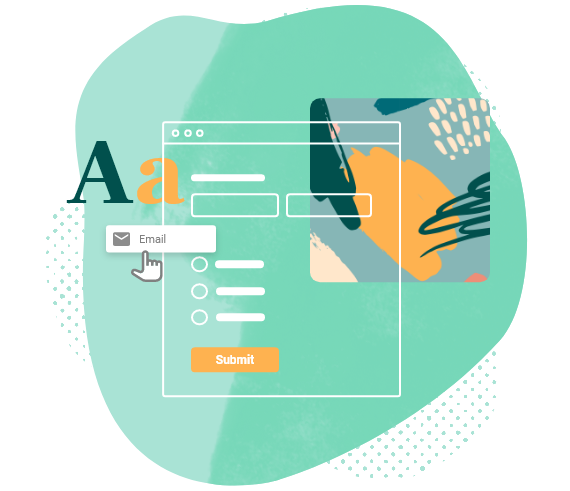 Stop looking for free survey tools that waste your time, energy, and don't match your brand.
123 Form Builder has all you need to make gorgeous on-brand surveys. Pick your colors, font, use your logo, everything you need to make sure your surveys match your company image.
In fact, our online survey creator will actually make survey and form branding fun. Click, click, drop, and done!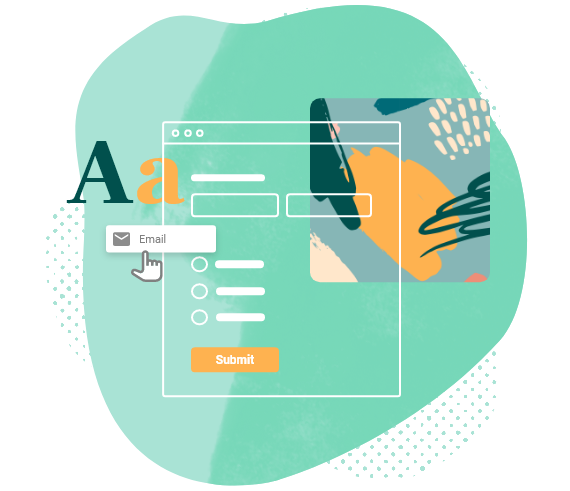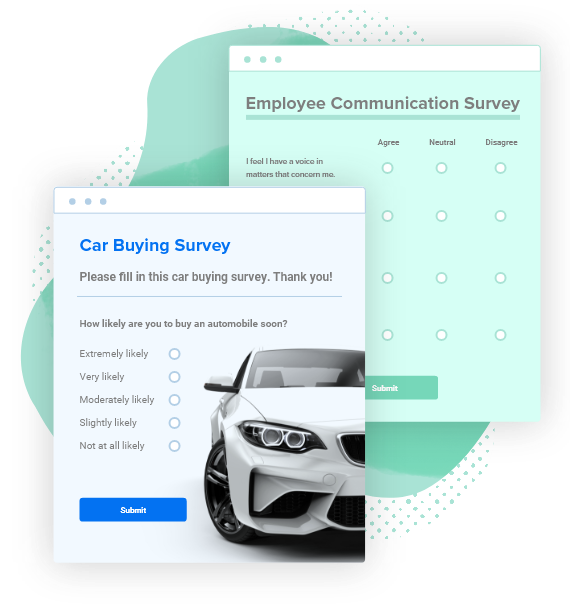 All the survey types you need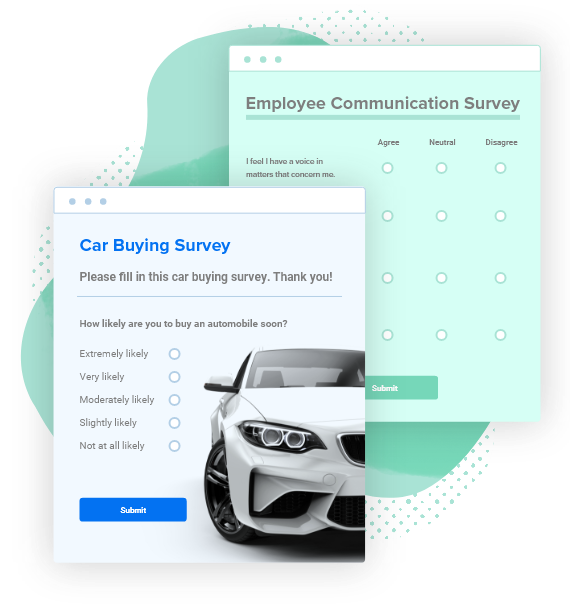 Aside from being super easy to use, our free survey creator is also incredibly versatile! It will allow you to create any kind of survey or questionnaire you need. Yes, there is a difference between surveys and questionnaires, of course there is, and of course our online survey and questionnaire form creator can handle both!
Some examples include:
Anything you need to make sure you gain priceless insight into what your customers and/or team think about you, your product, or the business you run.
Conditional logic surveys for the win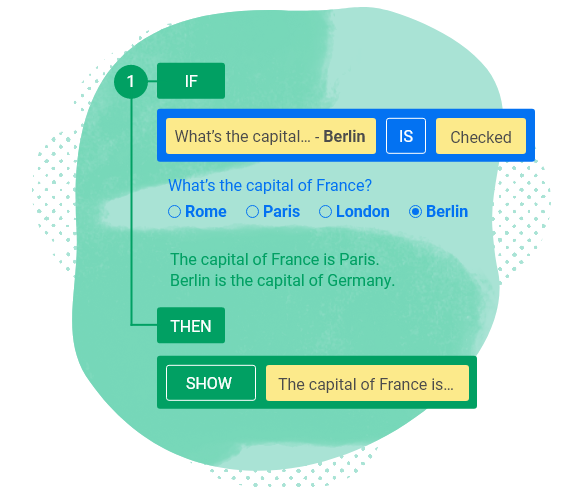 Or "how to make an online survey that's relevant to your target audience".
One of the features we take most pride in is our conditional logic. No, this is not just the team of nerdy fresh-out-of-Transylvania vampires bragging about how smart we are, we're talking about something really useful to real people.
Conditional logic is the kind of magic that allows you to set up forms and surveys that adapt to your respondents. Our online survey tool will allow you to show certain fields only when specific actions are done (such as responding "Yes" to a given question, for example). This will streamline the data collection process and make it easy both for you and your respondents to receive and deliver answers.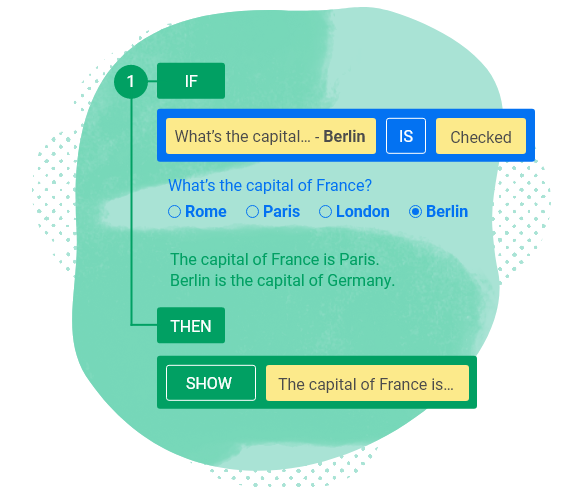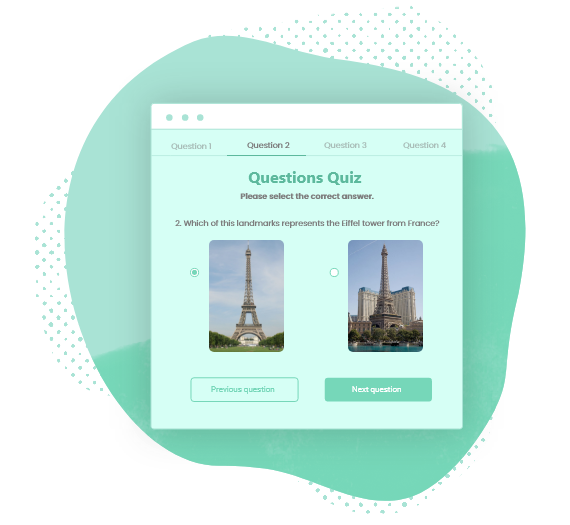 It's a human process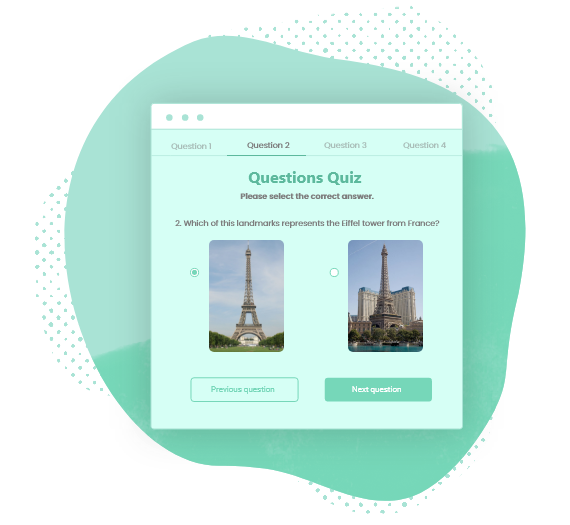 Behind this page lies a team of marketers who know how valuable the human touch can be. That's why our questionnaire creator makes it easy for you to take things step-by-step — just like you would in a normal conversation.
More specifically, you can make your own survey in a way that only shows one question per page (because in real life, you would only ask one question at a time, right?). Combined with conditional logic, this feature makes our free survey creator an invaluable tool in creating human connections to the people behind your survey's data.
Super-safe survey data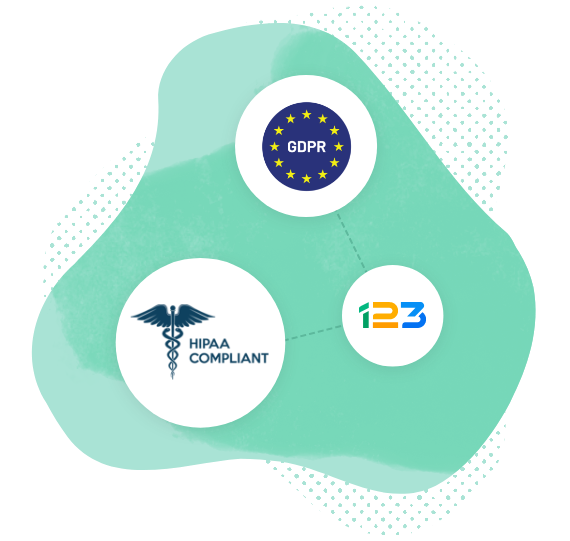 Creating human connections and collecting data comes with a great deal of responsibility. In the age of data privacy, you simply cannot afford or allow personal information to slip through the cracks.
We know that. And that's why we take data privacy so seriously we get obsessed over it. We are:
GDPR-compliant
HIPAA-compliant
ISO 9001-compliant
ISO 27001-compliant
What this means is that our tool meets all the necessary security standards to be absolutely safe. The way we store and handle your data is designed to prevent data leaks and comply with data security regulations we take extremely seriously.
We treat your data right. We don't look into your data, we don't let others lay a hand on your data, and we never let it out of the super-secure databases we're paired with.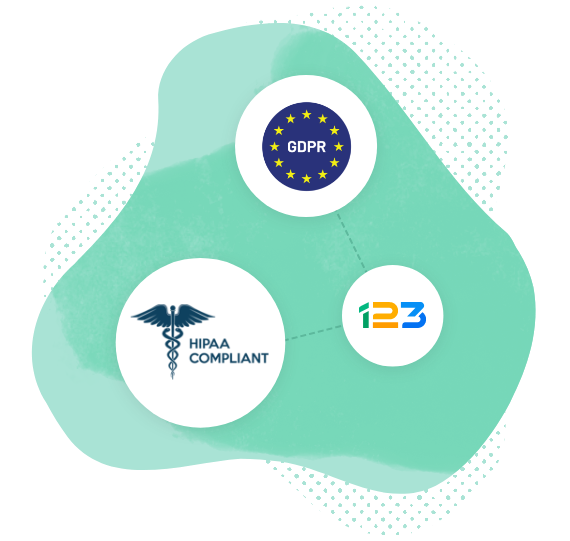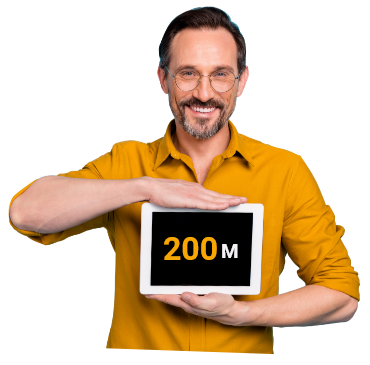 200 million submissions have already gone through our online form and survey maker.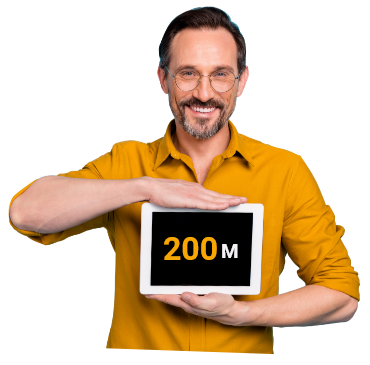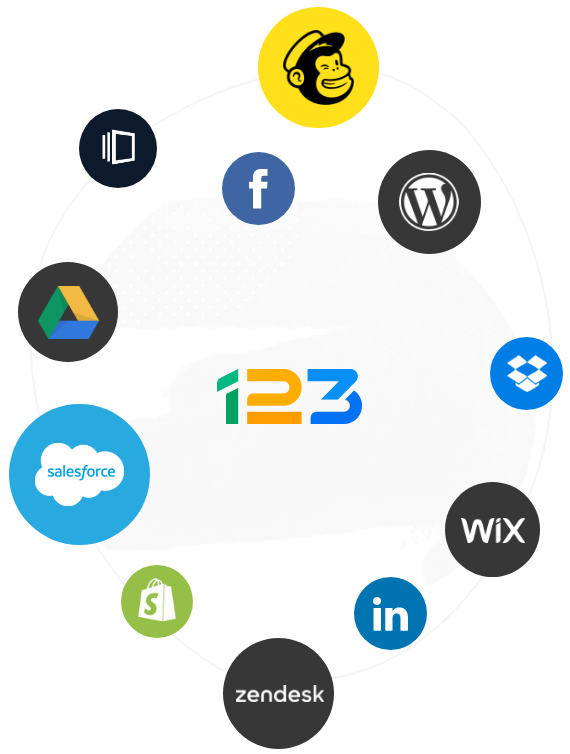 Connect your survey data to any tool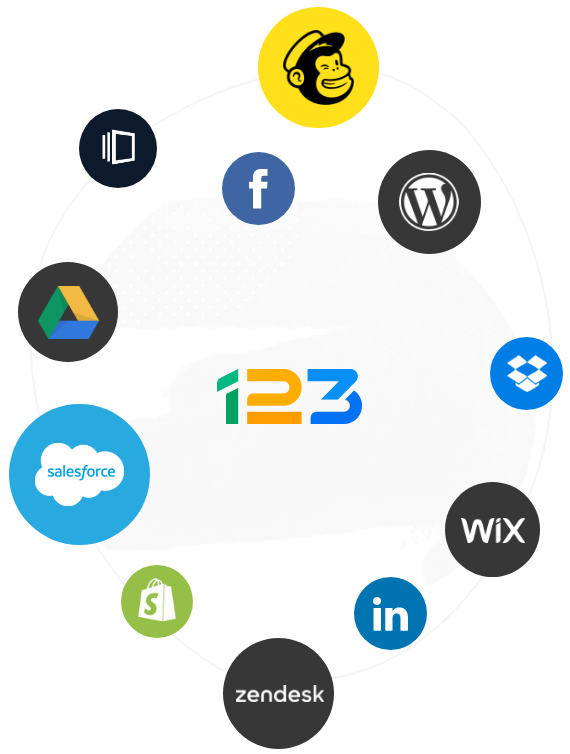 Data is great. But you know what's even better? Data that goes straight to where you want it. Like into your existing tool stack.
Our free online survey maker is fully integrated with 80+ of the single most popular tools in project management, email marketing, content management, customer relationship management, file management, social media, and help desk/ customer service. Some of the most popular ones include:
It takes seconds to connect your forms and surveys to any of these tools and streamline data from your surveys and questionnaires right to where you need it.
We are more than just a random free survey software. We are one of the finest, most integrated, and most comprehensive free online survey tools on the market. And we're not the ones saying it. Our customers and our own data are saying it.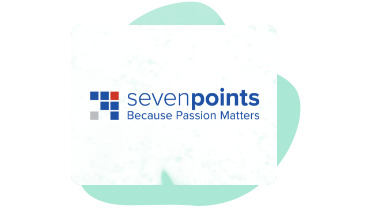 I find 123 Form Builder to be very robust, very intuitive, and very easy to use as an administrator, which is not always the case.

Sara Macey
7 Points Consulting
Collect valuable insights, anywhere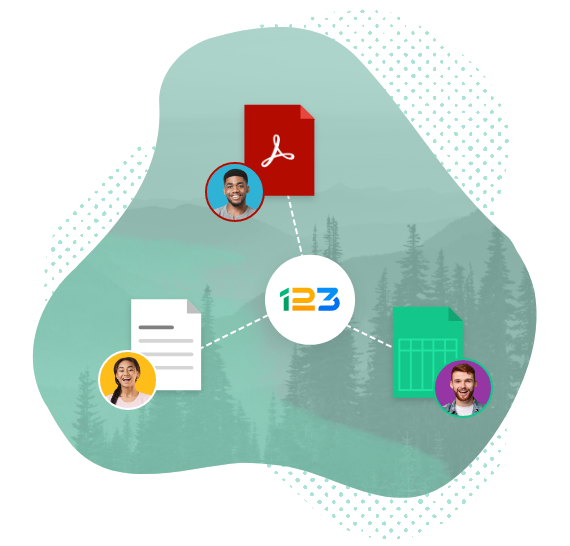 Building survey forms online is one thing — making sure they reach potential respondents is another.
123 Form Builder is a free online survey creator that makes it easy for you to reach your respondents and company stakeholders. Just use our Reports feature in your 123 dashboard and customize your reports to fit your needs and your audience.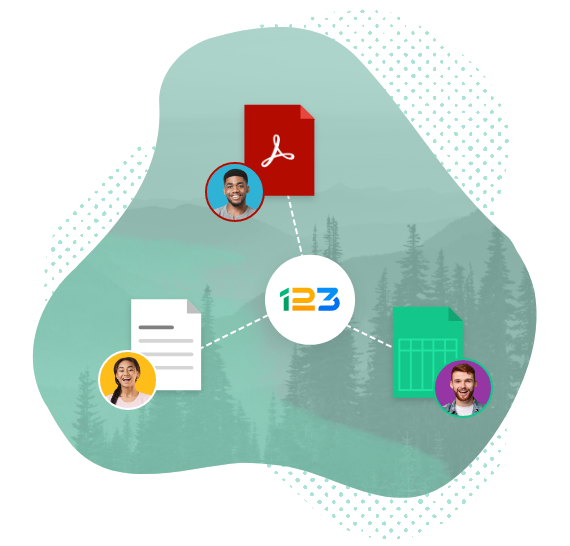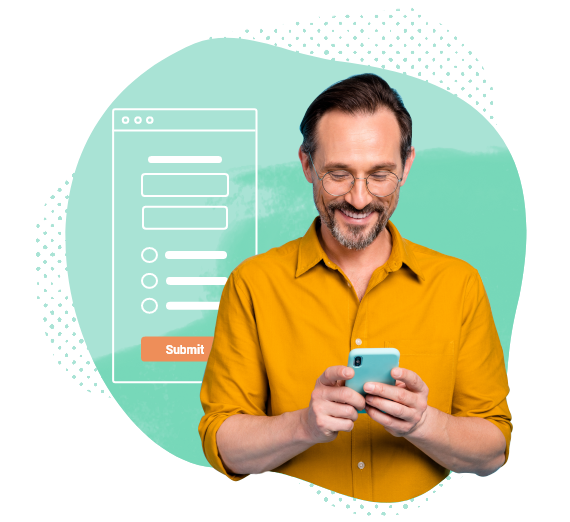 Priceless survey data on the go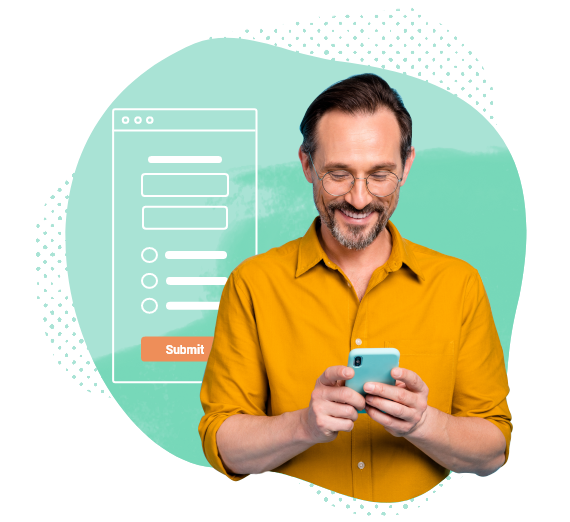 We know being mobile is crucial in today's world (Millennials have ruined improved everything). That's why our online questionnaire creator is fully ready to provide you with mobile surveys, questionnaires, and polls. With us, you really don't have to worry about how to create an online survey that actually works on mobile devices — all our forms work on both desktop and mobile devices automatically.
Collect data wherever you are and wherever your respondents are, because times, they are a' changin', and mobility is now more than an option. It's essential.
Present your data. Easily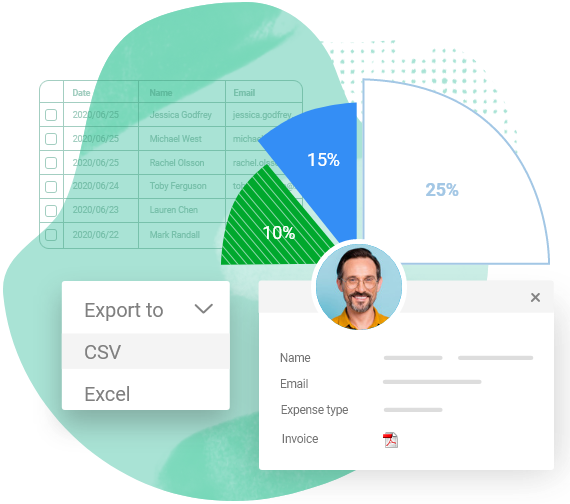 Have we emphasized how we make things monkey-proof-easy?
Well, with 123 Form Builder, you can not only create an online poll for free, but also smart reports. Whether you're a pie chart fan or a data table aficionado, rest assured that our tool can grab your collected data and help you create the kind of reports your bosses will be actually interested in.
That's right, our tool helps you create your own surveys (no coding needed!), collect the data, and present it in your next meeting. And, if you really feel the need to print your survey responses, you can absolutely do this as well, even though it is 2020.
Online survey questionnaire makers don't get better than this.