Product Tour
Check out how easy it is to create online forms. And you can sign up for FREE to get started immediately!
Drag & drop questions, set up your email notification, add your own logo, and then publish the form on your website to start receiving answers.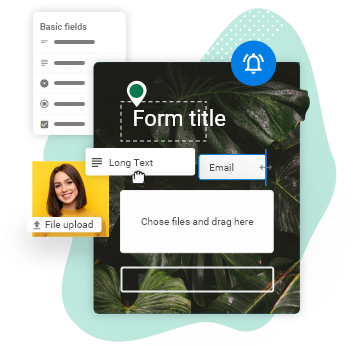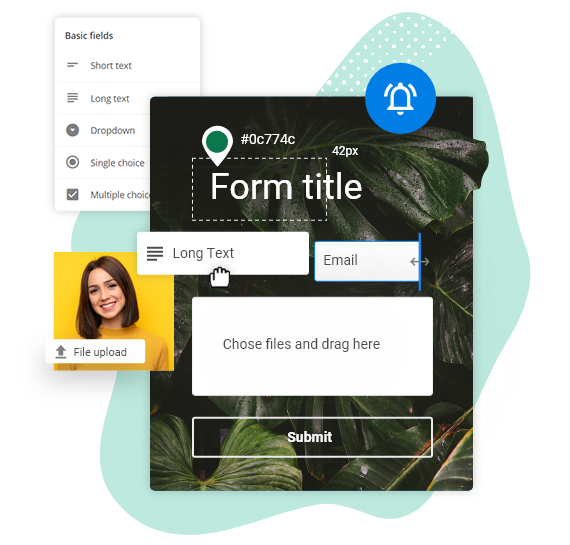 Trusted by 35,000+ clients, from small businesses to large enterprises
Easy-to-use
Drag and drop all the fields you need to make a form that collects exactly the information you need.
Choose from more than 30 elements, including but not limited to: text, drop-downs, radio buttons, signatures, Captcha, Likert scales, social buttons, rating stars, and radio buttons.
Fully Customizable Form Design
It's your form, and it deserves your branding. Easily add your colors, fonts, and logo to make your forms look pixel perfect.
You can even import your own CSS.
Conditional Logic
Got questions that lead to other questions, but only if the form filler gives a certain response? Need to get the right question in front of the right person. What you need is 123FormBuilder's conditional logic. Skip irrelevant questions and provide intelligent autoresponders for a form that gives your audience a smooth experience.
Data you can use
Our form creator collects your data in one central dashboard. Filter out submissions that don't interest you and generate reports that power meaningful actions.
Get notified
Really want to know when feedback has come in? Can't wait to see if your product is flying off the (virtual) shelves? 123FormBuilder's SMS and Email notifications mean you know the moment your form has received a submission.
Responsive Forms
Got an audience that's split across desktop, mobile, and tablets? Need your form to look perfect in every browser on every device? Well, you'd better get 123FormBuilder, because if you do, you don't need to worry about any of that anymore. All (y)our forms are now fully responsive.
Get paid
Order forms are the forms that bring money. And to do that you need a form that integrates directly with your preferred payment provider. Fortunately, our web form builder works with more payment providers than any other online form builder. Just sign up and start collecting $$$.
All of this form building & data collection is safe, right?
That's a smart question.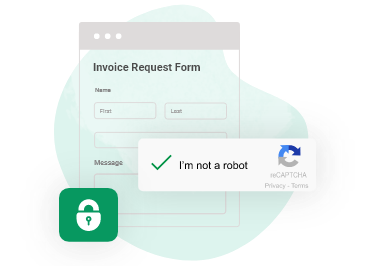 123FormBuilder offers you smart CAPTCHA, reCAPTCHA, SSL, password protection, country filters, and data encryption. Everything you need to keep your customer's data safe.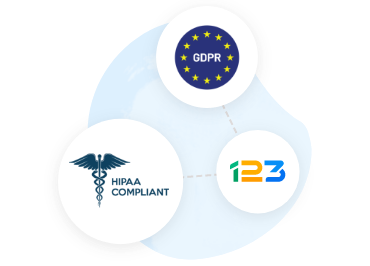 AND, 123FormBuilder is a 100% GDPR and HIPAA-compliant web form builder, with no compromises.
Our web form creator connects to your database to ensure the security and hygiene of the data your business relies on. We are an online form builder with a database, which means each form comes with its own cloud repository, but if for any reason you need to bring all the data to your backyard, you can absolutely do it. And seamlessly so.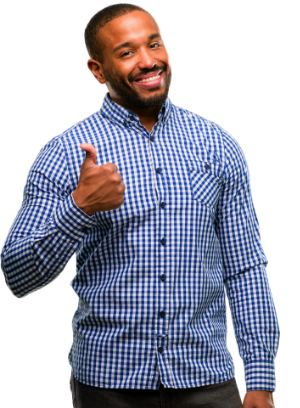 In other words, yes, we are really safe. And we work hard to be safer every day.
Your data and your users' data will always be secure with us.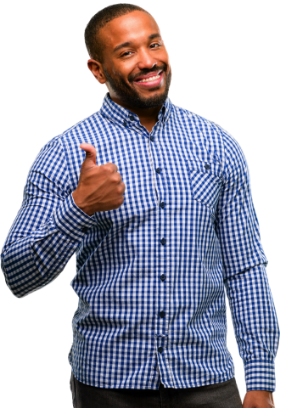 How do I know 123FormBuilder is legit?
Because really cool people from really great companies say really nice things about us, really.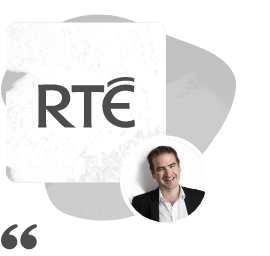 123FormBuilder is really great, setting up a form takes seconds.

Neil Leyden Head of RTE.ie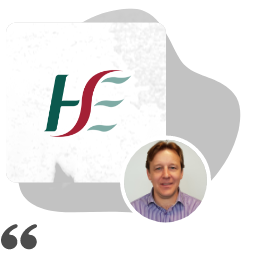 123FormBuilder has been incredibly successful for us.

Ron Finegan Program Manager, HSE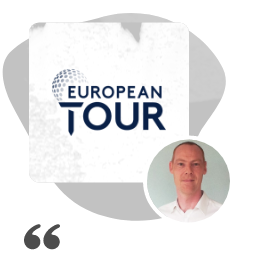 With 123, it is easy to build beautiful forms.

Peter Rudd CRM Admin, European PGA Tour
More than 200 million submissions have been sent through 123FormBuilder already.
Not that sure? Give it a try. It's free! Click the big button below and get a free online form builder account.
Come on, click it. You know you want it.