Event registration forms
Create user-friendly online registration forms with 123FormBuilder and add attendees to your event directly from your website. No coding required.
Create a form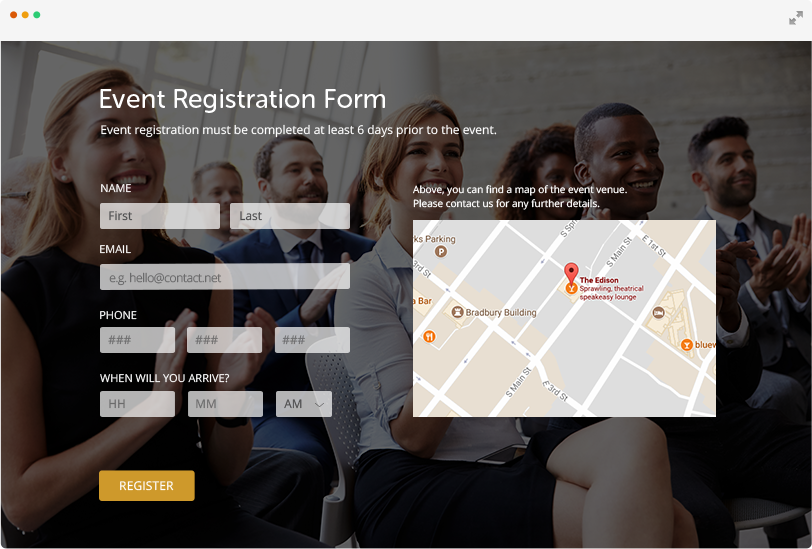 Get your guest list right.
Online registration forms take a lot of the hassle out of event management.
Make handwritten guest lists a thing of the past with online event registration software that makes it easy to generate an accurate guest list, fast. 123FormBuilder's web form builder includes built-in event registration templates that speed up the signup process and let you invite guests through social media, your website or custom links. 
As soon as a visitor fills out the event registration form, they're on the list: there's no extra work for you.
With 123FormBuilder, there's no need for lots of copying and pasting or formatting tricks to get your guest list looking good. All of the information you collect from your event attendees will be formatted perfectly from the start. Nothing will get mixed up and you'll get the RSVP right, right away.
Be the most resourceful of event planners and welcome guests with a smile, knowing you have your list in order.
Save time and effort with 123FormBuilder online event registration system, and make things easy for your guests, too. Forget building an overcomplicated event registration process - just set up a simple event registration form to get a complete guest list, quickly.
There's no need for guests to confirm attendance by phone or by email: they can just fill out an online registration form and press Send. If you need to, you can even build an event registration form in any language.
Let our free online event registration software take care of the guest count so you can focus on more important things.
Improve your event management
Easy registration

Is it your birthday? Time to tackle team-building? Or are you putting on a major professional conference? No matter the size and scope of your event, 123FormBuilder can handle the registration process and even collect feedback from guests after the event is over.

Need to sell tickets online?

No sweat, we provide a variety of payment integrations to choose from. Just turn your event registration form into an online order form (using PayPal, Authorize.net or a Stripe order form) so you can collect ticket or participation fees.
No coding required
Customize your forms

But don't just ask guests to register, get them excited to come by providing a customized form filled with striking information and images - no coding skills required. You can also add Google Maps information to make sure everyone required. You can also add Google Maps information to make sure everyone can arrive on time without getting stressed. Moreover, add social buttons to the web form in order for others to invite their friends from social media easily

Choose from our 30+ event registration form themes or create a custom one to make sure your web form fully matches every aspect of your event

Choose your fields

Make event registration a breeze by just asking for basic info, or gather more details so you can create a perfect experience for your event attendees. 123FormBuilder makes it super simple to collect Name,Phone,Email and Address fields, with integrated validation so you'll get information you can actually use.Plus, a file upload field is also available in our editor menu, should you require this option.

Take it to the next level

To throw an epic event, you might need to know if people are bringing guests,what they want to eat or even what music they prefer. Use dropdown lists, single-choice or multiple-choice fields to collect these details and put on a party your guests will never forget. Or,take it to the next level and give conditional logic a try - form rules let you show specific fields according to responder choices.
Tell the world
Gain a wider audience

Once your event registration form is ready, you can invite people to your event. Here are a few places to start:
Your website

Embed the event registration form on your website to make registration super simple. Choose from six different looks to match your brand.

Facebook and Twitter

It's a snap to get the news out on Facebook using the 123FormBuilder application for Facebook. Set up your event registration form to tweet every time someone registers, so everybody knows who's coming.

WordPress and Blogger

Publish the event registration form on your blog to reach readers.

Wix Sites

Create an event registration form for your Wix site to ensure seamless registration.
Manage the guest list with ease
Easy event management

Handling a guest list doesn't have to be hard. 123FormBuilder online event registration software makes it easy, with multiple ways to view and manage registrations:

Your website

Embed the event registration form on your website to make registration super simple. Choose from six different looks to match your brand.

View registrations in the 123FormBuilder database.
Export your guest list as a CSV or Excel file.
Send your guest list to Google Docs spreadsheets.

Syncing

You can automatically send your guests' email addresses to your MailChimp lists or Google Groups to keep in touch. After the event, don't forget to build an online survey so event attendees can tell you how it went.

Discounts

If you represent a church, a school or any non-profit organization holding events, contact us to get a 20% discount (plus 15% if you choose a Yearly plan).

See? You're on the best route to becoming the event manager of the year!
Ready to use form templates
Select the type of online registration form that suits your needs below or browse for more in our form templates collection.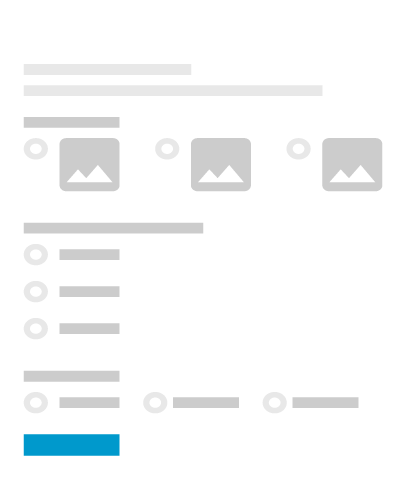 Start building your event registration form.
Sign-up takes less than 60 seconds.