Free online quiz maker
Create advanced online quizzes for teachers, students and businesses within minutes. Create questions with single or multiple choices as answers. No coding required!
Create a quiz
Make the perfect online quiz for any subject! Get the flexibility you need to get the answers you want. We make it easy for you to see what people know.
Our quiz builder can:
Add images to any question
Tell people how long they have left to complete the quiz
Conduct quizzes in any language
Show people how they did right away
Send your quiz out across email, chat, social media and more
Keep all data safe with SSL encryption & CAPTCHA validation
Give your quiz an A+ look and feel
Entirely customizable
Make your quiz look perfect with custom branding and images. Control what your quizzes look like and who can take them.
Let people come back later to finish, and send out certificates with results so everyone can show off on how they did.
User friendly form
Email results to congratulate those at the head of the class or give people something to study. And don't worry, your online quiz will look great on any device.
Put your quiz in all the right places
Once your free online quiz is ready, it's easy to share it anywhere, and it will look great on computers, tablets or mobile devices.
Send a link by email or Messenger
Get instant access to result
Provide instant results to individual test takers and find out how people did on the quiz. Receive an email with the percentage of correct answers for each quiz, check individual results in your repository, see how everyone did in charts and graphs.
Short on time? Use a template to make creating an online quiz even easier.
Ready to use templates
Select the type of form you need for your business below or browse through our complete form templates collection.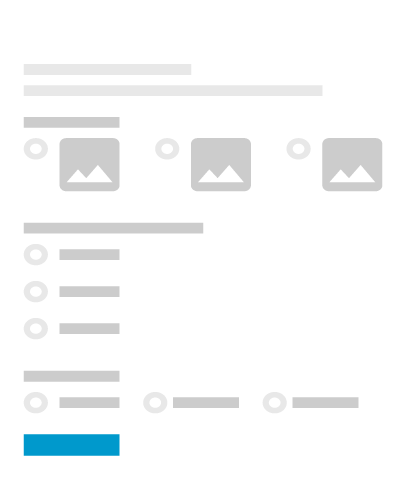 Start building your online quiz.
Sign-up takes less than 60 seconds.