Add 123FormBuilder Forms to Your Instapage
Engage your visitors with polls, quizzes or surveys and turn them into your leads – all easy to build!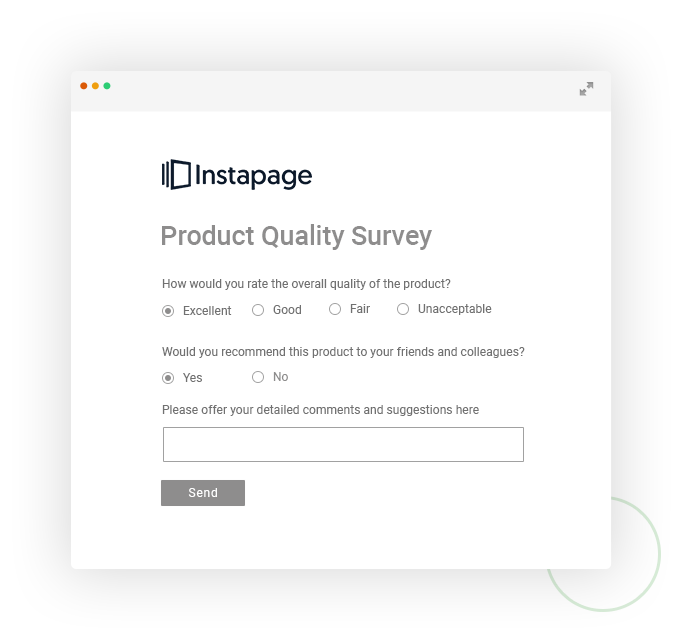 Here's how simple it is to publish
your 123FormBuilder form:
In your Instapage account go to Pages section and:

Click on the page you want to add a form to. It will take you to Edit mode
From the top menu, click HTML<>
Double click the container that was added. This is the place where you need to paste the 123FormBuilder embed code
In your 123FormBuilder account – to copy the code, go to the Publish section of your form, select Embed code tab and depending on how you want to display the form, choose from the dropdown:

The Javascript embed option and click Copy code
Lightbox triggered by a text, image or floating button → select the Option: Lightbox – Text link, Lightbox – Image link or Lightbox – floating button, click Customize to change the text or image and then click Copy code
Auto-popup after x number of seconds → select the Option Lightbox auto popup, click Customize to set the number of seconds and then copy code.
About 123FormBuilder
123FormBuilder is an intuitive form-building platform that helps users create efficient workflows, collect data and achieve success. 123FormBuilder exists to empower customers to collect, manage and use efficient their data for smart decisions.
About Instapage
Instapage is one of the most advanced all in one landing page solutions. It provides the needed tools for optimizing post-click experiences, AMP Landing Pages and many Advertising tools, including A/B testing and Advanced Google AdWords & Analytics integrations.