Likert Scale Questionnaires & Surveys
Create Likert scale questionnaires as easy as 1-2-3! With 123FormBuilder, you can scale responses in your survey and build well-designed reports.
Create a likert scale
Measure what others think and feel of the hypotheses in question
What is a Likert scale? How do you analyze Likert scale data?
A Likert scale consists of a question (or statement) and a set of answer options that respondents can use. When used in questionnaires, it helps scale responses in surveys. The answers are related one to another in the form of an interval. The most common ones scale the levels of agreement or satisfaction towards the statement.
Use 123FormBuilder to type in your Likert scale questions and answer in an online questionnaire. Just sign up for an account and start measuring perceptions and feelings in your survey. Not only can you collect accurate feedback, but you can also rely on the right method.
Likert scale questionnaires: What's in it for you?
A simple Likert Scale Questionnaire tool to rule them all
Find your preferred scale and start running your online survey. Add the first statement or question, then duplicate it and edit further.
Unlimited Likert scale questions for the right price
Use our free survey maker to build up to 3 Likert scale questions with simple drag & drop. If you need more, upgrade your account for unlimited Likert scale power. Skyrocket your survey into space and follow your insights through the stars.
Measure sentiments or behavior with a greater degree of nuance
Give your respondents a rating scale that fits their opinions on the subject. No other field type does it better.
Turn the tides of bad data with invaluable insights
The use of Likert scales in surveys results in more accurate statistics. And where there are numbers to view, 123FormBuilder can channel them in custom charts & graphs.
Use the Likert scale questionnaire & survey maker for:
New product
surveys
The process of conducting market research is always the same, regardless of the product or service concept you are thinking of. If most of your respondents are using a PC or mobile device, go for
online surveys
and
mobile surveys
. In short, invite both current and potential consumers to provide nuanced feedback by using well-devised Likert scale questions.

Post-event
evaluations
Planning events is hard work. And it doesn't end with the last guest leaving. Whether you organize social events or professional training courses, you need to gather precise audience feedback. Find out what went well, to replicate it at future events, and change what wasn't appreciated by attendees. As an extra tip, please note that event management works best with a limited number of questions.
Employee engagement
surveys
Improve organizational culture by correctly measuring employee performance and retention. Find out if your team feels fulfilled with their work, if they take pride in working with you and would recommend the company. Well-designed employee engagement surveys greatly benefit from Likert scale questions, as they produce accurate reports, including data points for action planning at all levels in the organization.
Customer service
surveys
Every customer should get great support each time they require it. To that end, your customer service team needs to be regularly evaluated in order to offer the best customer experience, nurture long term loyalty and reinforce your brand. This being said, successful customer service questionnaires should be distributed immediately after each interaction with your support staff.
Sociological & psychological
research
Creating precise scores for each respondent is particularly common for political polling or psychological questionnaires. Because Likert items are not simple yes or no questions, researchers are able to look at the degree to which people agree or disagree with a certain statement. Indeed, collecting self-report data from study participants is then used to assess personality, attitudes, behaviors.
Neat things to do with our Likert items:
Enable conditional logic to show/hide form fields based on user choices
Change the alignment and disposition of answers
Randomize statements
Add more than 5 pre-coded answers per question
Change the overall appearance of your survey
Ready to use templates
Select the type of form you need for your business below or browse through our complete form templates collection.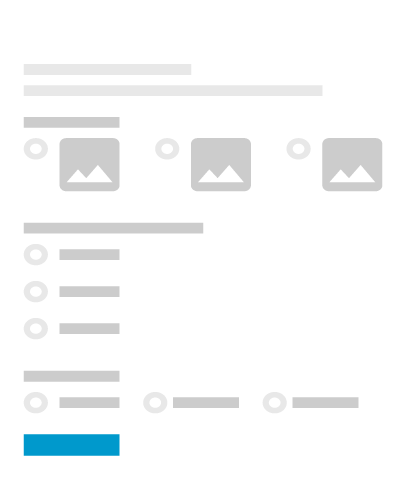 Start building your free Likert scale questionnaires
Sign-up takes less than 60 seconds.