Setting up SMTP with 2-Step Verification On Your 123FormBuilder Forms
If you are using 2-step Verification in Gmail, in order to configure your SMTP email server you need to use an app password.
An app password is a 16-digit code that gives an external app or device permission to access your Google Account.
Important Note

This article is only relevant to Google users that have the 2-Step Verification security option turned on. Read this guide if you haven't enabled the 2-Step Verification and SMTP is not working.
We recommend turning 2-step Verification On due to the fact that Google is constantly restricting access to non-Google products.
How to set up SMTP with 2-Step Verification On
Follow the steps below to learn how to send emails through your Gmail SMTP server:
1. Open your Gmail account and head over to the gear icon to access its settings.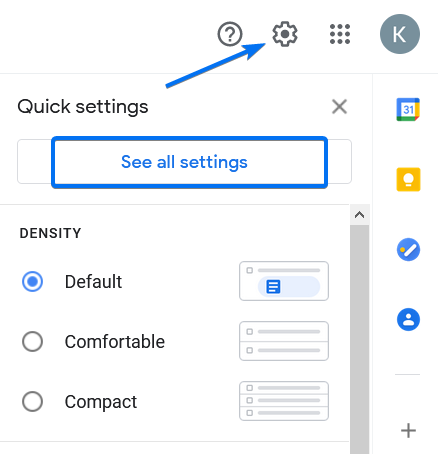 2. At Forwarding and POP/IMAP look for the option called IMAP access and disable it.
3. Click on your account's icon and select Manage your Google Account.
4. Open the Security section and select App passwords.
5. In 'Select app' choose 'Other (custom name)', give it a name and press Generate. The name can be 123FormBuilder. This way you know that the password is related to your 123FormBuilder forms.
6. It will give you a 16-digit code. Copy and save the password.
Important Note

Once you click on Done, the password will no longer be available. However, you can generate a new password at any given time.
7. Now that you have the password, head over to your form builder account on 123FormBuilder and open the SMTP configuration window. Read more details about how to enable the SMTP server.
8. Insert your SMTP server details. Where it asks you to enter the Password, paste the app password copied earlier.
Use the following settings:
Host: smtp.gmail.com
Port: 587
Protocol: TLS
9. Click Test connection and open your Gmail inbox.
10. A verification code is sent by 123FormBuilder. Copy your verification code. If the email isn't there, you might have to whitelist and mark us as a trusted sender.
11. Back to your SMTP settings, place this verification code, and hit Validate.
12. Close and open again the window to check the SMTP Status.
13. Make a test submission.
From now on, all notifications will be sent through your SMTP server.