When creating your forms, the key element is to know what each option does and how you can use it, especially those of the form editor, where the magic starts. There is most certainly a handful of fields and features out there that you've been ignoring but can definitely make a difference in your forms, both for your visitors and for you at the time of collecting more accurate information.
This is a comprehensive guide of some of the form fields & features that will help you build more stylish forms and save you some headaches. Let's get started!
HTML Blocks
What makes HTML blocks so great? They make it easier to add more text to the form and style it as you want within the tiny MCE editor. You will find the HTML block under Basic fields. Click it on the form and then click 'Edit HTML Block' in the left menu to add your HTML content.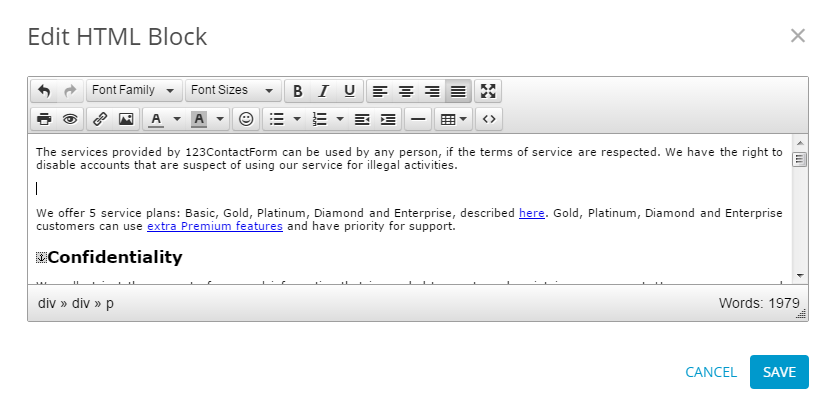 File Upload
Probably the coolest basic-intermediate feature you'll find. It is fun and super simple to use. This field will let your visitors upload files onto your form and collect a variety of folders and files from your respondents, such as pictures, documents or archives.
You can limit the minim or maximum size for an upload, but keep in mind that there is a limit cap of 150 MB per file upload field. Upload literally any file extension you want and see your files directly in the Uploads Manager. Gathering files has never been that easy!
Image
You can use this field to add an image to the form. It's a wonderful idea when giving to choose among a variety of options, or for selling a particular product and showing a picture of it on your order form! You can upload your image by URL or locally.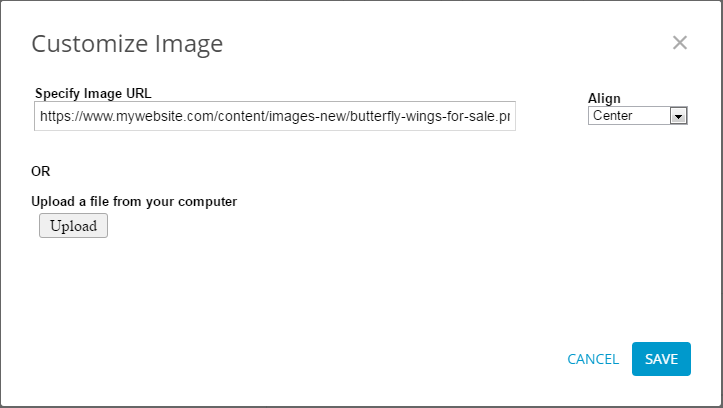 Address
This special field is great for requesting billing or home addresses from your recipients. By default, it comes with several inputs boxes for street address, city, region or state, postal/ZIP code and country. There are also four available presets that change the entire address field to match the address requirements for the United States, Canada, Australia and UK. If you are running a delivery service that operates only in the United States, you can use the address preset for US. It will modify the subfield Region into a dropdown that is populated with all state names that your recipients may use on the form.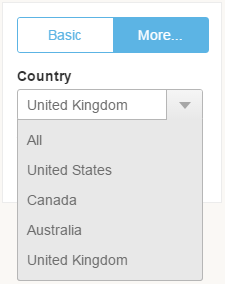 Useful tip: If you're using a Google map field on your form, you can match its coordinates with the address field. Isn't that awesome?
Field validation
You can determine the type of input accepted in a field by using the field validation option within the field's edit panel. You can also create custom field validations. However, not all fields come with this option, as they are already created for a particular purpose (e.g. date and time fields).
Customizing your Form Layout
Click the square-shaped button on top of the form to show the layout options.
Use the form layout options to:
Place the labels of the fields on the left, right or top of them
Select the form encoding
Set the form width by pixels or percentage with the help of the scrollbar
Place instructions below the labels or below the fields
Display the form on two columns
Set the direction of the text left-to-right or right-to-left
Other Useful Fields & Features
Password. Like any password field you fill in when you log into any service you use, this is an input field that shows black dots instead of the characters when typing in the field. Use this field wisely, since we've had to block some phishers accounts.
Likert Scale. This field can be used for surveys to add statements with different scales that your recipients may select. We're talking about the typical "How likely are you to…?". But not so typical if you add it your own twist. You can select from a variety of predefined scales that we provide or create one for your own!
Assigning points for quizzes. This feature works only for quizzes that provide multiple answers for each question. Whenever you add a single choice, multiple choice or a dropdown field to the quiz form, you can specify the correct answer and assign a number of points for it. You will see that the Total assigned box will sum up all assigned points on the quiz.
The form editor has many amazing features and many other fields are at the reach of your fingertips at any time. This article does not cover the entire form editor, but it does give an idea of how you can use it to full effect. Feel free to try them out and leave us a comment below.
Psst! Have you missed the first part? Check out the very basics of our Form Editor!